OverView Radio which is a Podcast Station/network and platform that provides and hosts various kinds of Podcasts started gaining popularity when it featured popular societal figure, Samoxa on one of their podcasts.
OverView Podcast With Joey specifically which is an inaugural Podcast show to the platform, and hosted by Joey Badubi has now hosted entertainers, media personalities and other public figures. It is now increasingly growing in prominence and drawing the attention of audiences and has now proven that podcasting just like in other countries has a place in Botswana. In an interview with Arts & Culture this week, Badubi said the rise of podcasting worldwide was one of many reasons why he chose to dive into podcasting. "During the hard global Lockdowns, Podcasting started taking shape worldwide. And that's when I got to observe and study the lucrative potentials and feasibilities of podcasting.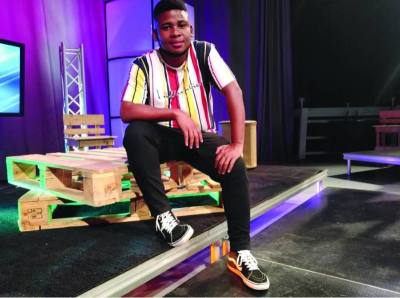 Thus, I eventually started overview Radio," Badubi further revealed. Badubi who is synonymous with his infectious laugh and hoot sound during his podcasts said he is always proud to say that Overview Podcast gained visibility straight from the inaugural episode featuring Samoxa. He added that the response and audience has been incredibly good from the jump. "As for Participants/guests, they got drawn in fully after Scar's episode, which was episode three.
That's when Public Figures really started extending keen interest," he said.
While most of famous podcasts feature celebrities and entertainers instead of ordinary citizens, Badubi said Overview Podcast With Joey is mainly architectured to bridge a gap between public figures and the public, who are their fans and followers. He said the platform is open to public figures across all life avenues, not only entertainers as people think. He glarified that the platform is also open to host an ordinary Motswana, provided they have extraordinary stories to tell or show. With Podcasts like MacG's Podcast and Chill heading into a future where it has firmly become part of the broader entertainment industry, Badubi said with Overview Radio the aim is to build it into a beacon of entertainment in Botswana, and across Southern Africa as a whole. "With Overview Radio, I'm aiming to improve the landscape and mentality of the entertainment industry in the country, at the same time creating employment. Employment Creation is the other driving factor with Overview Radio," he highlighted.
With Podcasters mostly self independent, Badubi added that he is one of those podcasters who don't have funders yet. He also said they are self funded at the moment. "My business partner and I had to sacrifice a lot to kick start the Overview Radio Project. I had to downsize my lifestyle and save a lot, in order to buy equipment and fund the whole project.
I even had to sell my car and most things that I owned. I had to quit my radio job so I fully focus on the Podcast. My partner had a lot to sacrifice as well, including his job and exhausting his savings. Just like each and every big business, the project is still new, and it hasn't really started to monetize yet that much yet. But we make money through adverts and sponsorships the same way how radio and television make money. There's YouTube payments as well, which will materials with the growth of numbers of subscribers and views.," he said.
Badubi stated that with Overview Radio the vision is to build it into a huge YouTube channel, Revolt, Genius and the likes. "OverView Radio is a Podcast Station/Network, thus the radio tag. A radio show is too governed by a whole lot of aspects including time, mostly time, commercials and themes whereas a Podcast is unorthodox, flexible in all aspects and relaxed," he explained. Badubi also clarified that podcasting is not easy as it seems especially when one wants to create quality content, in the form of visuals, graphics and sound. "If you do it independently, first, you have to acquire equipment. From there you have to account for the human capital involved including Videographers, Graphic Designers, Sound Techs, and the whole Production Crew involved. Content Production is not easy as well.
You have to be creative and always thinking outside the box in order to be different. So Podcasting is hard work," he pointed out. Some podcasters filter their content in order to avoid getting blamed for things said by their guests during interviews. Badubi said their content is authentic and unfiltered no wonder it is rated 18. "He said they always put up and emphasize on a disclaimer, at the beginning and at the end of the episode. And we always advise guests to be explicit at the same time minding their explicitly." Badubi added that podcast interviews are and shouldn't be scripted. "They should be authentic. So they indeed show who is real and who is fake, it shows whoever stays in character and who does not. A Podcast interview should comprise of personal questions that are never asked nor addressed.
And they will always expose the kind of a person you are," he highlighted. Going forward, Badubi said he feels that there are a whole lot of possibilities in Podcasting. "In a near future I believe one can make enough income from creating content on Overview, it has great business potential. An amazing thing is you create a Podcast about anything, entirely anything." Badubi also indicated that he doesn't just do Podcasting and he is pursuing other businesses. "I'm not just a Podcaster but a whole Media Practioner. I'm also an Event MC, a writer and influencer. I'm an entrepreneur/businessman. There are other businesses that I'm involved in as well. I believe in multiple income streams.