Mmala Oefile, an art teacher by profession at Baratani Junior Secondary School in Otse has moulded the biggest pot in the world, beating South Korea and Poland who held records in the previous years.
This Guinness World Record's tallest pot structure has been made entirely of two types of local clay soils and grog (lentswana), all obtained from Molepolole village where the talented potter hails from. In an interview with Art & Culture, Oefile said his earthenware pot became the largest after beating Poland who previously made the largest pot measuring 3.1meters in height in 2014, taking over from South Korea who made the tallest pot measuring 2.6 meters height in 2011. Oefile's pot is situated at Kgosi Sechele I Museum in Molepolole and its height is 3.5 meters.
"I have always wanted to do something that would benefit Batswana. We have students who failed other subjects but did very well in art but could not proceed to senior secondary schools because our education system failed them. I always wanted to take those children off the streets and utilise their talent. I have always been passionate about pottery hence my decision to utilise my talent combined with my students' talents. I decided to do research and was intrigued when I saw the countries that made it to the Guinness Earthenware World records. I did more research and decided to take chances and break the record," he said.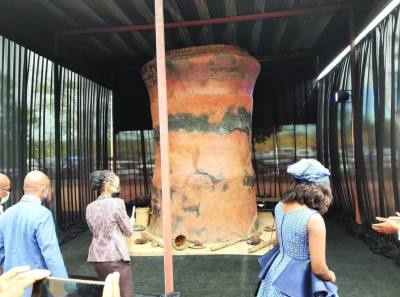 He added that he later joined Guinness Records and asked for advice on what he had to do to be part of the highly established award. He was advised to first register his company name which he did. He called it Big Pot Africa since he wanted to represent Africa by building the biggest pot in the world. He added that after opening a company, he looked for legal advise and had all documents protecting his art. He then looked for four of his best students who did very well in his art classes.
Furthermore, he explained that he moved the team to his parents home in Molepolole and took a six months unpaid leave so that he could push the project. Oefile added that he also looked for four more out of school and unemployed youth who joined his team. He also said they included a local traditional potter who played a drastic role in ensuring that their dream is met.
"We started this project in 2019 where I knocked on several doors seeking sponsorship. I later got a call from Minister of Finance and Economic Development, Peggy Serame who showed interest in my idea. Together with her delegation at the time, they agreed to sponsor my idea.
Through them we managed to get sponsors from different stakeholders like LEA, CEDA, Gambling Authority among others. AWIL College also helped a lot. They documented the project from day one till the last day. Pinnacle Jomatic surveyed our project after completion," Oefile stated.
Even though he finally managed to finish the pot, the journey towards ensuring that he meets all the requirements to make it to the Guinness World Record and building the largest pot was not easy. He said getting the right clay soils and grog was not easy. He also said with the first pot he got soil from Segoditshane river in Tsolamosese and grog from Gabane and it broke down because it was not adaptive to the weather. He added that they tried clay soils from other parts of Botswana but faced the same challenges. Even though the trials were successful, moulding a big pot failed dismally.
"Our traditional potter then decided to give us his family clay recipes. He is born in a family of potters. The clay soils they use made our dream a success. It was not easy completing this project because I was supervising people who worked with me for free because I could not afford to pay them. I had to sell my livestock to at least buy them food and toiletry. I also had to do piece jobs to provide for them. We were also short of equipment therefore had to build our own stepladders with old logs, which was risky", he said.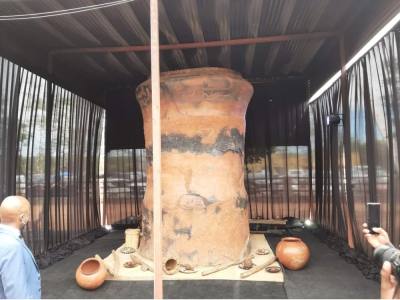 The Minister of Investment, Trade and Industry, Mmusi Kgafela noted that the unveiling of the pot presented prime opportunity to showcase local culture through art. He further said he was pleased to be launching the biggest pot to be made in Africa and in the universe in Molepolole. "The pot presents an opportunity to be a tourist attraction and bring in people from all over the world," said Kgafela.

The minister said the emergence of pandemic has hindered a great deal of opportunities for the world over. He, however, urged the youth and the community at large to overcome them and seek ways in which to find business opportunities through this.

CEDA CEO, Thabo Thamane represented spomsors. He thanked all the sponsors involved in the project and implored the private and public sector to get involved in community-driven projects. He urged potential sponsors to see the benefit in making the Big Pot Africa a tourist attraction by contributing financially to the site. Before proceeding to cut the ribbon to the Big Pot Africa, Serame applauded Oefile and his team for their hard work and determination in seeing through the project.

She said it was testimony that the only way to succeed was to knock on as many doors as possible. "If one door opens, many doors in the future will also open," she encouraged.