The legendary traditional choir, Rangers Marena from Artesia, gave an epic performance at the Taste of Africa festival on Saturday at the Royal Aria Stadium. As one of the opening acts of the festival, the choir set the performance bar so high than none of the acts later in the night could match.
Few minutes into the performance, the clouds began to drizzle before pouring down cold rain. As the crowd ran for cover at the stadium's stands, Rangers was unstoppable. When everyone was expecting the choir to cut short their act, they continued with their song, and appeared to love the rain. The festival technical team took over the microphone and covered their equipment to avoid water damage as the rain intensified but Rangers too stepped up their performance. The rain was like a fuel to them. Soaked wet from the cold rain, the ladies lied down on the drenched lawn and rolled over in a dance move that is said to be the choir's signature.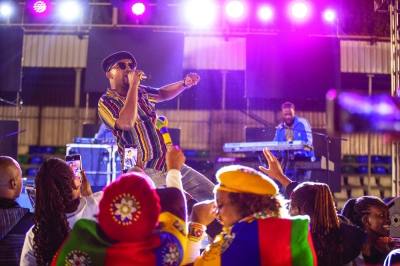 The crowd cheered from the stands as the choir sang their hearts out. The one-hour performance saved the show as they entertained when the rain threatened to spoil the show. Taste of Africa also saw the return of celebrated Dikakapa traditional group. They are now men, they refer to themselves as 'Senior boys', but they still have the moves and the muscles.


They performed their classics taking the crowd down memrory lane when traditional song was fashionable. Other acts at Taste of Africa included Lesotho rapper Malome Vector and his fellow traditional artist Morusu, Swaziland's Sands and South Africa duo Sdala B. & Paige and Simmy. Other local artists were Maxy Khoisan, Culture Spears, Nono Siele, Ditiro and Gong Master.