While President Mokgweetsi Masisi vowed during the 2019 elections campaign that he would not rest until Bakgatla-Ba-Kgafela Kgosi, Kgafela II is back home, it has been claimed that no efforts have been made in that regard.
This is despite Press Secretary to the President, Batlhalefi Leagajang saying Masisi has made attempts. Following the death of his mother, Bakgatla Queen Mother Kathleen Kgafela a week ago, many questions have been asked as to whether Kgafela will be allowed to come for her mother's burial.
While some media reports have stated that the State may consider a conditional pardon for Kgafela to return to bury his mother, the Director of Public Prosecutions (DPP), Stephen Tiroyakgosi has since said the warrant of his arrest still stands and is enforceable. "I cannot be commenting on somebody's loss, but I can only confirm that the warrant of arrest is still valid," the DPP boss said and declined to engage any further.
Last Thursday, Masisi went to condole the royal family in Mochudi but said nothing on Kgafela's return. Instead, Bakgatla regent Kgosi Bana Sekai would then speak to the media stating that Kgafela is "saddened by the fact that he will not be able to say his last goodbyes to his mother". "We have not been told whether Kgafela will be allowed to come bury his mother from our engagement with the President. Let me make it clear that he will not come to lay his mother to rest. The issues are yet to be resolved. There has never been any special meeting to iron the issues on his and the government's positions. I can assure you that he will not come," he said.
Sekai added they were saddened by the developments that while Kgafela is not far off, he will not be able to lay his mother to rest. He said the issues with the government are matters of the law and they do not know what is to be done. Sekai said as Bogosi, there was nothing they have done to make him come over as they have tried in the past and all efforts failed. He said they could not be running around last minute when they have to put Mma Seingwaeng to rest. The Monitor would then contact Leagajang quizzing him on what the President had done since the pledge to have Kgafela back home. "Tautona o dirile maiteko, o buile le ba Bogosi," is all that the President spokesperson could say.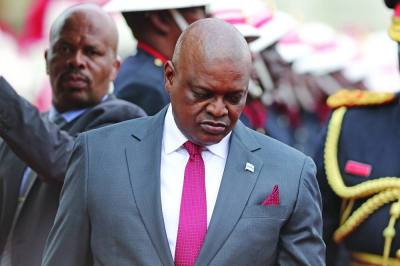 He, however, would not field any more questions as to what Masisi discussed with who and when, only repeating his statement which when loosely translated means that the President had made attempts by contacting Bogosi on the matter.

When contacted to try establish from him as to whether they ever engaged with Masisi on the matter, Sekai said: "I do not know anything, maybe you can check with others in the royal family, but I do not know of any engagement that was ever held with the President." Another source close to Kgafela said Masisi has never made an effort to contact their Kgosikgolo. "The last person to talk or meet with Kgafela was Kgosi Malope, Minister Ramadeluka Seretse and Isaac Kgosi, all under President Ian Khama administration. Kgafela and Masisi have never ever met or spoken in life," said the source who preferred anonymity.