GAPHATSHWA: It was a day of heartbreak at Gaphatshwa lands in the outskirts of Metsimotlhabe Block 4 in the Kweneng District last Thursday when the infamous 'yellow monster' rolled in to demolish people's homes.
The dreams and hopes of one family were shattered after they became homeless in the blink of an eye. On Friday, The Monitor team visited the Babo family of 10 whose four homes had already been razed to the ground together with houses in the three other yards.
Narrating her plight, Kootsenye Babo, 75, who has been residing at Gaphatshwa lands since 1983 said back in 2001 Mogoditshane Sub Land Board negotiated with them to pave way for the village plots allocations.
The mother of 10 said at first she was sceptical to hand over her 13-hectare field but she ended up agreeing after she was promised compensation and that in the process her children would be allocated residential plots.
"We are not squatters here. This field has a certificate and my name forms part of the 2006 verified list of which we were promised that our children will be allocated residential plots, but I am surprised that today my children are homeless. I have been visiting Mogoditshane Sub Land Board and Kweneng Land Board. Whilst battling the matter this cruelty happened. We have been staying here since 1983 and my children do not own plots, they grew up here," she said.


Babo said they received a warning of demolitions verbally and while busy addressing the matter, the yellow monster was sent in to destroy their homes. Some of the homeowners' houses were knocked down in their absence and were left empty-handed.

"The yellow monster driver who was in the company of the police and soldiers armed with guns told us verbally that they have been instructed to destroy our houses and there was a court order, but we were not served with that alleged eviction order," said the red-eyed granny.

The grandmother of 33 said what pains her most is that some field owners in her neighbourhood have been allocated residential plots together with their children and grandchildren, but surprisingly that's not the case for her family.

Asked about the matter, Mosenye ward kgosi who covers Gaphatshwa lands, Joshua Botwaki and former area councillor Moemedi Mokgachane said they have been supporting Babo's family to resolve the matter for years but the decision to demolish their homes left them speechless.

Mokgachane revealed that the matter started when he was still the area councillor. He said then, it was agreed that the field owners will be given what was called "'maremo a selepe' mo e neng ele lemmenyana boba solofetswa gore bana ba bone ba tla fiwa ditsha".

He said then, in 1991 field owners agreed on the condition that their children will be allocated residential plots even though the compensation was very little.

"In 2001, the Land Board promised them that a final agreement will be taken after the assessment looking at the layout of the plots. Some fields had structures being the houses. Back in 2006, I took their names and gave the then Kweneng Land Board secretary, Chris Malatsi telling him that their residential plots allocation agreement is lagging after an agreement of 'mpeele bana' was taken. Then Babo's children's names could not be included because their fields had structures. Some have been allocated residential plots despite having structures like them hence I do not know why they were not included," he said.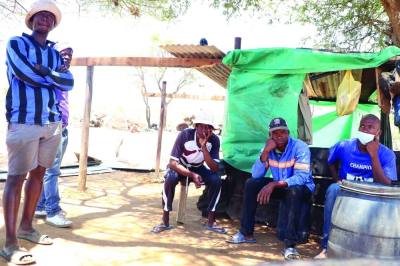 During a press conference on Friday, Kweneng Land Board chairperson, Kgang Kgang said Babo's field was assessed and she was compensated for her developments hence could have long relocated.

Kgang stated that back in 2016 Babo's children started demanding residential plots and they told them that they do not have any agreement with them. The only person they had an agreement with was their mother who was compensated, he said.

"We told her children that they were squatters. They took the matter to court and the court instructed us to allocate a plot to the field owner being their mother and we did so. The field owner is their mother not them, we do not owe them residential plots," he said.