At independence, a dark cloud hovered over Botswana. The menace of Apartheid regimes in South Africa and Rhodesia, coupled with the unexpected cold reception from fellow African countries, made prospects of political survival slim, writes Mmegi Correspondent DOLLY BYRONE THEBE
It did not make sense to think of any future for a small poor country geographically enveloped by powerful and hostile regimes diametrically opposed to principles Botswana cherished. It was a daring and audacious adventure for Botswana to disregard the 'bosses' of Southern Africa and embark on some uncharted experiment in democracy and multiracialism. But 55 years later Botswana proudly celebrated, albeit quietly, her 55th birthday. Thanks to the bravery and vision of the founding fathers, Botswana successfully navigated the terrain and managed to thrive amidst adversity. Undoubtedly, over the last 55 years the world felt in a big way her unique contribution to the cause of humanity. What made Botswana a rare success story?
It was a combination of Botswana's natural resource endowment and the late Sir Seretse Khama's sound, exceptional judgment and leadership acumen that gave Botswana a place in the globe. Building national cohesion, persuading the disparate tribal groupings to disengage from pursuing narrow and parochial interests and shifting loyalty to the newly founded nation was a daunting task.
Overnight, chiefs had to lose their traditional powers and rally their subjects behind the national flag. This was not going to be an easy transition and handling this volatile issue required diplomacy, empathy and dexterity. And Seretse proved equal to the task. It was on account of Seretse's foresight that Botswana escaped the possibility of suffering from the 'African diamond curse'. Hitherto, some African countries were preoccupied with incessant inter-tribal conflicts occasioned by disputes over ownership of minerals.
Seretse settled the issue of ownership once and for all. He successfully sold the novel concept of a collective ownership of minerals. Mineral exploitation was designed to steer the national development agenda. No tribe could gain economic advantage over other tribes on account of accident of birth or geographical location. A profound and major achievement of Seretse was that nationalism triumphed over tribalism, a rarity in the African context.
Seretse's comparative advantage was his royal background. He seemed to have exploited his status as a chief to effect to persuade fellow chiefs to see things his way. He laid the foundation for democracy and non-racialism at a time when the circumstances in the subcontinent and elsewhere pointed to a different direction. He was a man of principle and was not prepared to trade ideals he cherished for anything. On the international front, Botswana did have an ideal start. The Botswana Democratic Party (BDP)-led government was perceived to be an outpost of imperialist regimes. And therefore, admittance into the world stage was not a given and Seretse had to invest energies to earn the respect of Africa and the rest of the globe. Seretse and company skilfully crafted a foreign policy predicated upon a desire to sell Botswana's unique example of tolerance, democracy, racial harmony, and respect for the rule of law and good neighbourliness. To this end, Seretse settled for a non alignment policy avoiding taking sides in the cold war. The non alignment policy earned Botswana friends and sympathy across the two rival super powers.
The spirit of good neighbourliness allayed South Africa's fears that Botswana could be used by 'terrorists' as a launching pad to topple the Apartheid government. It was this policy which caused South Africa to exercise a bit of restraint when dealing with Botswana.
If Seretse had laid the foundation for democracy and good governance, his successor and the late Sir Ketumile Masire consolidated the work that he began with his predecessor. It must be noted that the foundation created was not a product of one man.
As Seretse put it, it was the work of a team. Seretse accomplished so much because of the formidable partnership with his Vice President. There seemed to have been a bit of Seretse in Sir Ketumile and a bit of Sir Ketumile in Seretse.
When Seretse died, there was no departure from the policies that Sir Ketumile and Seretse co-developed. Sir Ketumile maintained the status quo in foreign relations and took advantage of the mineral boom to tackle poverty, illiteracy and food deficits. It was during Sir Ketumile's reign that Botswana witnessed the mushrooming of secondary schools, especially community junior secondary schools.
The country had limited secondary school opportunities and today the country boasts over 200 junior secondary schools, 34 senior secondary schools and over 700 primary schools. Sir Ketumile battled incessant spells of drought and he introduced several programmes to promote agriculture and food self-sufficiency.
However, during his time corruption started creeping in forcing him to set up the Directorate on Corruption and Economic Crime. To his credit, his Vice President Peter Mmusi and senior minister Daniel Kwelagobe had to resign their posts because they were implicated in a land scandal in Mogoditshane. On the international scene, a desperate Apartheid government in the late 1980s started to launch pre-emptive military strikes into Botswana and other neighbouring states under the pretext of hunting for African National Congress (ANC) and Pan Africanist Congress (PAC) camps. This was an attempt to cow Botswana into submission. Masire remained defiant and could not yield to the dictates of an illegitimate government.
When he retired voluntarily, Masire passed on the baton to an Oxford trained economist, Festus Mogae. His background as an economist raised expectations for a brighter future especially on the economic front. It was during Mogae's term that the country witnessed a bit of emphasis on the growth of the middle class.
The country saw a new phenomenon of chain shops which reduced the number of people who visited South Africa for shopping purposes. Money earned locally could be used at home to create jobs.
The only challenge is that the shops are selling goods made in South Africa. Mogae initiated plans to build dams from the north and laid down pipelines to deliver water to the drought stricken southern region. If Mogae had any plans for economic diversification, such plans were perhaps frustrated and derailed by the HIV/AIDS scourge. He showed extraordinary leadership and courage in combating the HIV/AIDS scourge. HIV/AIDS threatened to reverse economic gains made because it targeted able-bodied young women and men. Mogae is credited with the introduction of antiretroviral therapy which saved many lives. But the cancer of corruption refused to go away during his period.
Lieutenant General Ian Khama's ascendance to power coincided with the global economic recession. The economic imperatives of the time forced him to embark on austerity measures, scale down government's expenditure through wage restraint and stoppage of construction of new infrastructure. The wage restraint policy resulted in a massive public service industrial strike in 2011. Public servants demanded a salary hike and Khama could not budge arguing that the economy was too fragile to support an increased wage bill.
To a large extent, Khama pushed the agenda of the poor and less fortunate members of the society. He came up with several initiatives aimed at eradicating poverty and raising agricultural output. Khama expended his energies on promotion of performing arts, sports and culture.
During his tenure, quite a number of sports men and women did Botswana proud on the international stage. Khama gave the President's Day a new meaning and purpose. It became a day for celebrating the country's cultural diversity. He became extremely unpopular for introducing the alcohol levy, something which affected the performance of the liquor producing industry.
He is also perceived to have leaned towards dictatorial tendencies.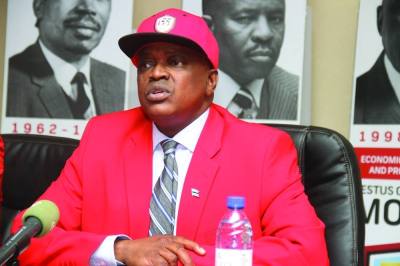 The county is now under the hands of President Mokgweetsi Masisi who is also advocating for the growth of the middle class. He won the elections on the basis of a barrage of promises. Prominent amongst these promises was the anti corruption crusade. So far the campaign has yielded nothing after a period of three years. The cat-and-mouse existence with his former mentor and predecessor Khama is keeping him busy and perhaps distracting him from making good his promises. Under Masisi the COVID-19 pandemic has gobbled a lot of resources including foreign reserves.
He is yet to account how the country's resources were spent during the pandemic. It remains to be seen how he will navigate the way forward. He is receiving a lot of flak for being an airborne President during the pandemic. Generally, Botswana has done well in keeping its brand of democracy. But, on the front, the future does not look bright. The country has not invested in technology needed to drive industrialisation. The education system has churned out graduates who are able to write nice Savingrams and statements in white collar jobs and there is a serious drought in the engineering field.