Twenty-six-year-old fine artist, Obakeng 'Rodney' Keitemoge has decided to produce artworks which have been inspired by the Setswana culture.
In an interview with Arts & Culture, Keitemoge explained that learning the cultures and the religions of Batswana helped him to produce artworks that communicate with the community. Keitemoge added that his favourite pieces at the moment were a family portrait drawing of Sir Seretse Khama and Lady Ruth Khama and the painting called Africa Village.
"I am a visual artist who communicates through visual stimulations. I create works of art with mediums such as coloured pencil, charcoal and paint on different surfaces ranging from paper, walls, canvas and even fabric design on your everyday clothes. I started art in junior school and continued up to senior level where I passed the subject with merit," he revealed further.
Keitemoge said he stopped doing art after his Form Five for about three years between 2014 and 2017. In 2017 he decided to register a company and started using his skills to make money. "I started with wall paintings on preschool grounds. Then I began making portrait drawings for individuals. I kept adding new things to what I do till I had different things to offer. Now I run my very own outdoor gallery in the Gaborone Main Mall in the Diamond Square where I display my art works," he said.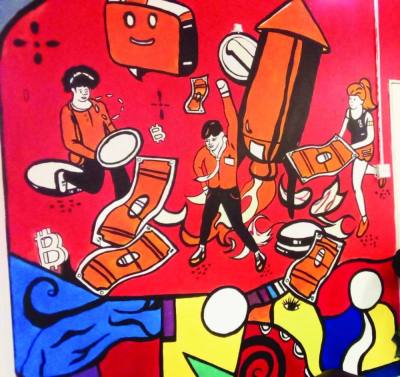 Since 2017 to date, Keitemoge is doing art full time as a business. The public goes to theMain mall every day to see and appreciate the art works. This multi talented artist explained that Batswana received his work with open arms adding that with their continued love and support, he will go further than he imagined. His themes are usually Setswana culture and animals.

Furthermore, Keitemoge explained that he exhibited his work in the Botswana President's Day Competition and Thapong Artist of the Year exhibitions. He will be having a Solo Art exhibition on November 28, 2021.